Measuring flow in large pipes with insertion type flow meters.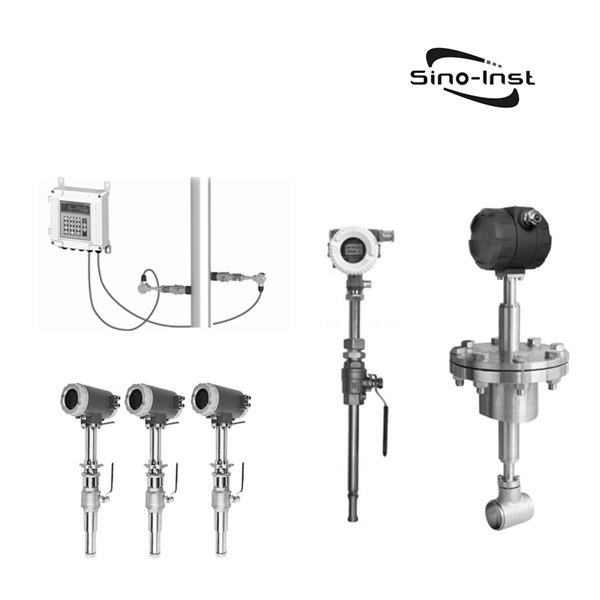 If you need to measure the fluid flow of a larger pipe diameter, you are most likely to choose an insertion type flow meter.
But what insertion type flow meter should you use?
The market has insertion electromagnetic flowmeter, insertion vortex flowmeter, insertion ultrasonic flowmeter, insertion ultrasonic flowmeter and so on.
Next, let us compare various insertion type flow meters. Hope to help you choose the right insertion type flow meter!
When should you use Insertion type flow meters?
When the pipe diameter is large;
When there is a tight inner lining;
When the scale in the pipe is serious;
When the pipe is a poor conductor of ultrasound;
When the external clamp probe fails to reach the required signal strength or the measurement is unstable.
Featured Insertion type flow meters for Sale
Insertion type magnetic flow meter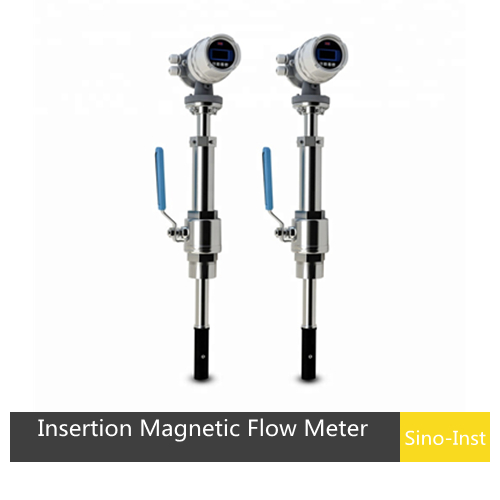 Insertion Magnetic Flow Meter is the magnetic flow meter that measures the fluid velocity of conductive liquids in applications where hot-tap or insertion installations are preferred. Like, measures the flow velocity of conductive liquids in large diameter pipes.
| | |
| --- | --- |
| NO. | SI-Magnetic Water Flow Meter |
| Payment | T/T, Paypal |
| Product Origin | Shaanxi, China |
| Shipping Port | Shanghai/Ningbo/Shenzhen |
| Lead Time | 3-5 days after payment received |
Insertion type electromagnetic flow meter working principle
Faraday's Formula
E is proportional to V x B x D where:
E = The voltage generated in a conductor
V = The velocity of the conductor
B = The magnetic field strength
D = The length of the conductor
The insertion magnetic flowmeter is based on Faraday's law.When measuring flow, a liquid flows through a magnetic field perpendicular to the direction of flow and induces a voltage proportional to the average flow rate (volume flow). Its induced voltage signal is detected through two electrodes that are in direct contact with the liquid. Voltage signal will be transmitted to the smart transmitter through a dedicated cable. The smart transmitter performs calculations based on the magnitude of the electric potential and the mathematical model of the electromagnetic flow. And converts it into a flow signal for on-site display. Including instantaneous and cumulative quantities can be display. Then output the standard 4 ~ 20MA and 1 ~ 5VDC signals to the flow secondary meter or DCS. 
Insertion type vortex flow meter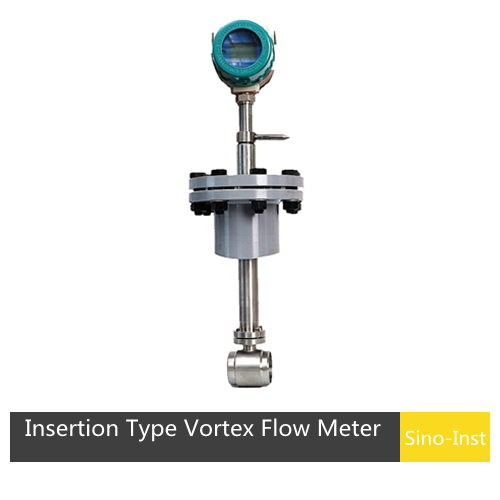 SI-3304 Insertion Type Vortex Flow Meter 
is designed
for large pipeline size over 10 inches,
users can install and removal the vortex sensor without closing down the whole running system
.
Customers can get volumetric or mass flow of gas, air or
steam
through our powerful vortex flow meter.
| | |
| --- | --- |
| Diameter | DN200~DN3000mm |
| Accuracy | ±0.5% |
| Temp. range | -50~+400℃ |
| Nominal pressure | PN25, PN40 (customized) |
| Protection | IP67 |
| Explosive-proof | Flameproof type ExdIIBT4-T6, Aniline type ExiaIICT4-T6 |
Insertion type turbine flow meter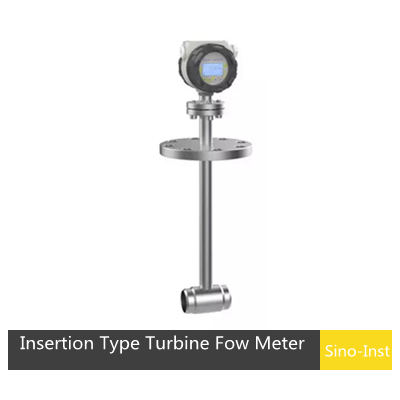 SI- 3208 Series Insertion Turbine Flow Meters are designed for accurate, cost-effective mass flow measurement of steam,high-temperature liquids and gases, including steam, and can be installed without line shutdown. Insertion turbine flow meters are ideal for use in larger steam lines, where downsizing the line size to improve flow measurement is not desirable.
| | |
| --- | --- |
| Diameter | DN200~DN3000mm |
| Accuracy | 0.5% to 2.0% of reading |
| Temp. range | -20~+150℃ |
| Pressure | 1.6 MPa |
| Flow rate | 0.5~6m/s |
| Straight pipe required | Up stream≥5DN, down stream≥3DN |
Flow Metering Principals
Differential Pressure Flowmeters
Velocity Flowmeters
Positive Displacement Flowmeters
For Open Channel Flowmeters – weirs, flumes, submerged orifices, current meters, acoustic flow meters and more
For different working principle, We offer different types of flow meters, like:
Differential Pressure Flow Meters
Orifice Plate
Venturi Tube
Flow Nozzles
The Sonic Nozzle – Critical (Choked) Flow Nozzle
Calorimetric Flowmeter
Ultrasonic Doppler Flowmeter
Positive Displacement Flowmeter
Variable Area Flowmeter or Rotameter
Velocity Flowmeters
Turbine Flowmeter
Thermal Flowmeter
Coriolis Flowmeter
Mass Flowmeters
Open Channel Flowmeters
Insert ultrasonic flowmeter: can be installed and maintained without stopping production. The ceramic sensor is used for non-stop installation using a special drilling device. Generally, it is mono measurement. To improve the measurement accuracy, three channels can be selected.
Pipe segment type ultrasonic flowmeter: need to cut the pipeline to install, but the future maintenance can be stopped. Choice of mono or tri-channel sensors.
External clamp-on type ultrasonic flowmeter: can perform fixed and mobile measurement. Use special coupling agent (silicone rubber cured at room temperature or high-temperature long-chain polymer grease) for installation, and the pipeline will not be damaged during installation.
Portable ultrasonic flowmeter: portable use, built-in rechargeable lithium battery, suitable for mobile measurement, with magnetic sensor.
1. Non-contact measurement method, small size, easy to carry
2.Suitable for on-site measurement of sound conducting media of pipes of various sizes
3.The built-in Ni-MH rechargeable battery can work for more than 20 hours
4. Flexible user interface and easy to use
5. Intelligent on-site printing function to ensure the integrity of traffic data
6. Equipped with an integrated aluminum alloy protective box, which can be used in harsh outdoor environments
Hand-held ultrasonic flowmeter: small size, light weight, built-in rechargeable lithium battery, handheld use, equipped with magnetic sensors.
Explosion-proof ultrasonic flowmeter: It is used for the measurement of liquid flow in explosive environments. That is, the converter is explosion-proof and the sensor is intrinsically safe.
Insertion type flow meter price
Sino-Inst offers 10 Insertion typr Flow Meters. With best price. A wide variety of  Industrial flow meters options are available to you. such as free samples, paid samples.
Sino-Inst is Industrial flow Transmitter suppliers, located in China. The top applying countries are China (Mainland), Hong Kong, and the United States, which supply 96%, 2%, and 1% of wireless pressure transmitter respectively.
Insertion typr Flow Meter products are most popular in North America, Domestic Market, and South America. You can ensure product safety by selecting from certified suppliers, with ISO9001, and ISO14001 certification.