SI-3501 Thermal Mass Flow Meter is an instrument measures flow rate, according to thermal properties of gases
.
Detecting constant temperature difference of the medium,
the flow meter can
directly
measure fluid mass flow,
without requiring temperature and pressure compensation,
to provide high accuracy measurement result.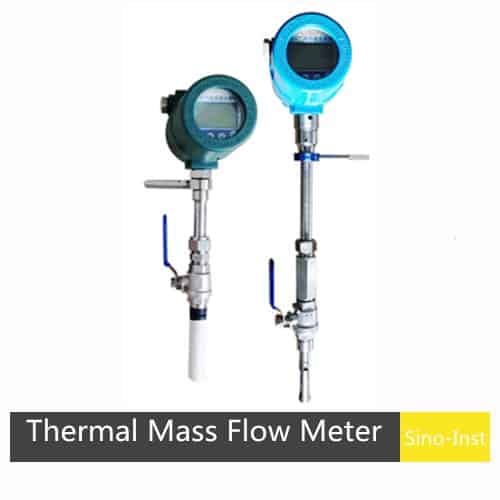 | | |
| --- | --- |
| Diameter | DN10~DN6000mm |
| Accuracy | ±1% |
| Temp. range | -10~350℃ |
| Pressure | Medium pressure≤10MPa |
| Flow rate | 0.5-100m/s |
| Protection | IP67 (sensor part) |
Features
Temperature and pressure compensation is not necessary, measurement process is simple and accurate.

Could measure mass flow or standard volume flow rate of gas.
Range ratio 100:1, could measure gas flow from 100Nm/s to 0.5Nm/s and

be used

for gas leak detection.

Good vibration resistance, long service life.

No moving parts or pressure detecting parts, accuracy will not

be affected by

vibration

.

Easy installation and maintenance.
Adopt

overall

digitizing circuit measurement to ensure high accuracy.

Flow meter is with RS485 communication, could be part of automation and integration of your facilities

.
Specifications
Medium

All gases (except acetylene)

Pipe diameter

DN10-80 (Flange type)

DN100-6000 (Insert type)

Flow rate

0.5-100m/s

Accuracy

±1%

Operating temp.

Sensor

Default type: -10~+200℃

High temp. type: -10~350℃

Transmitter

-20~+45℃

Operating pressure

Medium pressure≤10MPa

Medium pressure≤2.5MPa

Power supply

Compact type

DC24V or AC220V≤18W

Remote type

AC220V≤19W

Response time

1s

Output

4-20mA

Optical isolation, max. load 500Ω

RS485

Optical isolation

HART

Pipe material

Carbon steel, stainless steel, plastic, etc.

Display

Compact type: 4 lines LCD display

Display content

Mass flow, standard volume flow, accumulated flow, time, accumulated time, medium temp., standard flow, etc.

Ingress protection

IP67 (sensor part)

Sensor material

Stainless steel

Stainless / carbon steel
Order Guide
In addition to regular products, we support customization
SI-3501
Thermal mass flow meter
Sensor type
C           Retrench pattern insert type
D           Online pluggable type
E           Flange pipe type
F           Thread pipe type
G           Clamp on type
Pipe diameter
C         Round pipe: DN15~DN6000
S         Square pipe: 25*25mm~2000*2000mm
Housing material
A           SUS304
B           SUS316
C           Other material
Pressure
S            1.6MPa
M           2.5MPa
T            4.0MPa
Temp.
I                10~200℃
II              10~400℃
Output
1                 4-20mA
2                 RS485
3                 PULSE
4                 Relay contact
5                 HART
Power
DC        24VDC
AC        220VAC
Display
J          Integrated display
S         Split display
Applications
Gas in industrial pipelines Air, used as gas combustion flow meter, thermal mass flow meter high temperature air flow measurement.
Flue gas out of chimneys.
Waterfall gas during water treatment Gas and compressed air
Thermal mass flow meter for compressed air
Flow measurement and used as natural gas flow meter, coal gas flow meter, liquefied gas flow meter, thermal mass flow meter for flare gas and hydrogen gas etc.
Flow measurement of trapped gas in steelworks
Reviews