SI- 3208 Series Insertion Turbine Flow Meters are designed for accurate,
cost-effective mass flow measurement of steam,
high-temperature liquids and gases,
including steam, and can be installed without line shutdown.
Insertion turbine flow meters are ideal for use in larger steam lines,
where downsizing the line size to improve flow measurement is not desirable.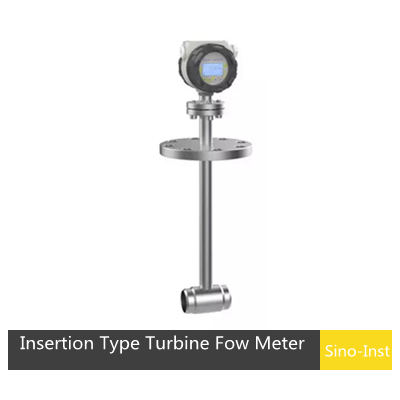 | | |
| --- | --- |
| Diameter | DN200~DN3000mm |
| Accuracy | 0.5% to 2.0% of reading |
| Temp. range | -20~+150℃ |
| Pressure | 1.6 MPa |
| Flow rate | 0.5~6m/s |
| Straight pipe required | Up stream≥5DN, down stream≥3DN |
Features
Specifications
Order Guide
Applications
Reviews
Features
Strong anti-electromagnetic interference and anti-vibration ability;
After replacing the impeller and the bearing, the meter factor

is unchanged

;

The flow range is wide, the lower limit flow rate is low;
The measurement error of the total flow of the complete flowmeter is small;
Almost no pressure loss, saving power consumption;
The sensor can

be installed

in the open air, the entire sensor can

be used

in the water for a long time;

The sensor with the shut-off valve does not need to

be disconnected

during installation and

disassembly

;

Horizontal, vertical, inclined pipes can

be used

;

The

purchase

, installation and maintenance cost of the complete flowmeter is low.
Insertion turbine meter measuring range:
Model
Pipe measured inner diameter  mm
Insertion rod length mm
Flow range m3/h corresponding to the nominal diameter DN
Full flow range
Accuracy of ±2.5% flow range
Accuracy is ±5% flow range
LWCQ-100
100
 
6-150
10-150
<10-6
LWCQ-150
150
13-200
20-200
<20-13
LWCQ-200
200
23-300
40-300
<40-23
LWCQ≤400
100
906
6-150
10-150
<10-6
150
13-200
20-200
<20-13
200
23-300
40-300
<40-23
250
36-450
62-450
<62-36
300
52-650
90-650
<90-52
350
70-900
120-900
<120-70
400
92-1100
160-1100
<160-92
LWCQ≤800
500
1106
150-1800
250-1800
<250-150
600
220-2500
360-2500
<360-220
700
280-3500
450-3500
<450-280
800
380-4500
640-4500
<640-380
LWCQ>800
900
1306
460-5800
800-5800
<800-460
1000
600-7000
990-7000
<990-600
1100
700-8500
1200-8500
<1200-700
Model
Pipe measured inner diameter  mm
Insertion rod length mm
Flow range m3/h corresponding to the nominal diameter DN
Full flow range
Accuracy of ±2.5% flow range
Accuracy is ±5% flow range
LWCB-100
100
 
3-150
5-150
<5-3
LWCB-150
150
7-200
10-200
<10-7
LWCB-200
200
12-300
20-300
<20-12
LWCB≤400
100
900
3-150
5-150
<5-3
150
7-200
10-200
<10-7
200
12-300
20-300
<20-12
250
18-450
31-450
<31-18
300
26-650
45-650
<45-26
350
35-900
60-900
<60-35
400
46-1100
80-1100
<80-46
LWCB≤800
500
1100
75-1800
125-1800
<125-75
600
110-2500
180-2500
<180-110
700
140-3500
225-3500
<225-140
800
190-4500
320-4500
<320-190
LWCB>800
900
1300
230-5800
400-5800
<400-230
1000
300-7000
495-7000
<495-300
1100
350-8500
600-8500
<600-350
Specifications
Order Guide
Applications
Reviews