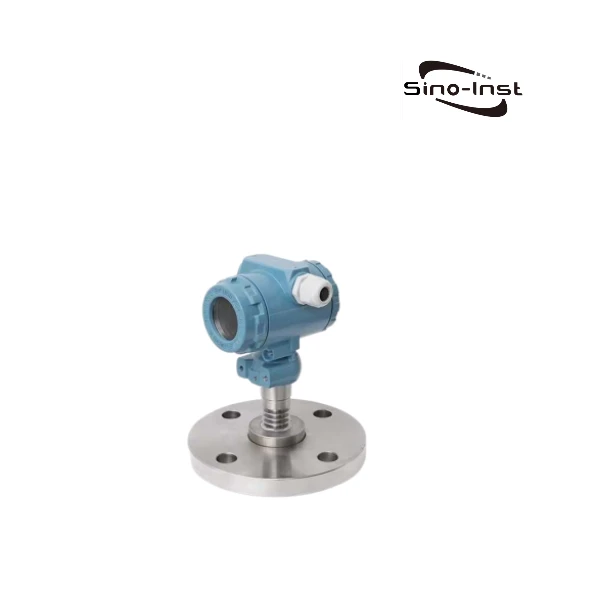 The Diaphragm Pressure Transmitter uses the isolation diaphragm box as the measuring part and is installed with a flange. Pressure transmitter diaphragm seals are used to protect pressure measuring instruments from corrosive, viscous, crystallizing, aggressive, highly viscous, environmentally hazardous and toxic media.
SI-3151TLT Diaphragm Pressure Transmitter-Flange Type is mainly used to measure high temperature, easy to solidify or crystallize, contain suspended solids, too viscous, corrosive or other media that need to maintain hygienic conditions and cannot be polluted.
Features of SI-3151TLT Diaphragm Pressure Transmitter-Flange Type
The isolation diaphragm is available in a variety of materials and has a high level of corrosion resistance
Easy to clean, hygienic, no dead ends
The electronic shell is made of aluminum alloy, and the shell protection level is IP65
On-site display, output 4~20mADC at the same time, can superimpose HART protocol
Zero and full scale adjustable
It can be used for a wide range of tested media, including oil, water and paste compatible with 316 stainless steel and 304 stainless steel.
High accuracy, high stability, imported original sensor, good linearity, high temperature stability.
The pressure sensor directly senses the pressure of the measured liquid level, and is not affected by the foaming and deposition of the medium.
SI-3151TLT Diaphragm Pressure Transmitter Specifications
| | |
| --- | --- |
| Range: | -100KPa~0~60MPa; |
| Accuracy: | 0.25%FS, 0.5%FS |
| Output signal: | 4 ~ 20mA (two-wire system); |
| Power supply voltage: | 9~36VDC (two-wire system), 9~40VDC (three-wire system); |
| Medium temperature: | -30℃~+85℃; |
| Ambient temperature: | -20℃~+85℃; |
| Allowable overload: | 150%FS; |
| Temperature drift: | ≤±0.05%FS/10℃; |
| Stability: | ±0.1%FS/year~±0.2%FS/year; |
| Pressure port: | M20×1.5, G1/4, 1/4NPT and other external threads or customized according to user requirements; |
| Electrical interface: | Four-core shielded cable (protection grade IP65), aviation plug, DIN connector; |

SI-3151TLT Diaphragm Pressure Transmitter-Flange Type Applications
Diaphragm Pressure Transmitter can be used in various industries. Including chemical coatings, paint detection systems; environmental protection, coal mines; sealed oil pressure systems, experiments or testing equipment; mud, coal slurry, crude oil and other viscous media.
The flanged Diaphragm Pressure Transmitter is suitable for the following measurements: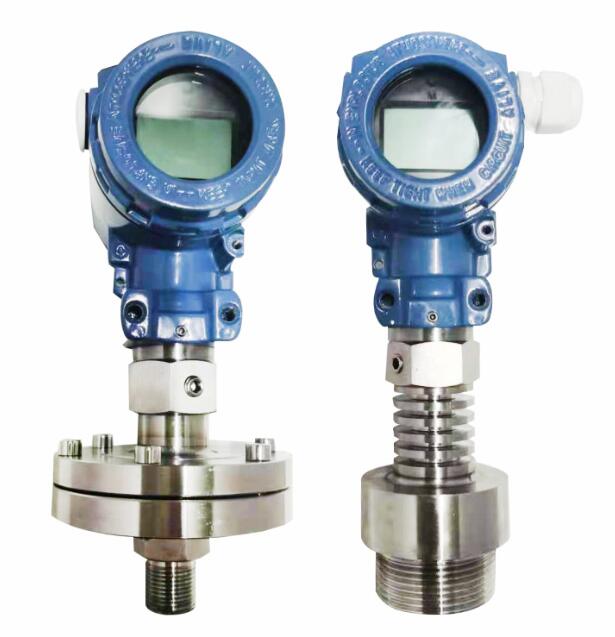 Viscous medium at high temperature;
Medium that is easy to crystallize;
Sedimentary media with solid particles or suspended matter;
Strong corrosive or highly toxic medium;
It can eliminate the occurrence of the leakage of the pressure guiding tube and pollute the surrounding environment. It can avoid the tedious work of frequently replenishing the spacer because of the instability of the measurement signal when the spacer is used;
Continuous and accurate measurement of interface and density;
The remote transmission device can avoid the mixing of different instantaneous media, so that the measurement results truly reflect the actual situation of the process change;
Occasions with high requirements for sanitation and cleanliness;
For example, in the production of food, beverage and pharmaceutical industries, it is not only required that the parts of the transmitter in contact with the medium meet the hygienic standards. And it should be easy to rinse. To prevent cross-contamination of different batches of media.
Order Guide
SI-3151TLT
Diaphragm Pressure Transmitter
B
Standard type
J
Compact type
T
Ceramic capacitive Type
Range
A
0-5KPa-20KPa
E
0-0.7MPa-3.5MPa
B
0-20KPa-70KPa
F
0-2.0MPa-7MPa
C
0-70KPa-350KPa
G
0-7MPa-35MPa
D
0-200KPa-700KPa
H
0-20MPa-100MPa
Display
1
no display
2
Digital display
3
LCD Display
Installation
M
M20*1.5 external thread
MF
Diaphragm type (mark: flange specification + diaphragm materia)
O
Other specifications (please mark)
output signal
E
4

~

20mA two-wire system (DC 24V)

K
0

~

20mA

M
user agreement
Explosion-proof
0
Non-explosion-proof
i
Intrinsically safe type ia

Ⅱ

CT6

d
Flameproof d

Ⅱ

BT4

Additional options
Damping adjustment
migrate
absolute pressure measurement
negative pressure measurement
Select ceramic sensor
Heat sinks and process connections
user agreement
More Featured Industrial Pressure Transmitters
Sino-Inst is the manufacturer of Diaphragm Pressure Transmitters.
There are many types of pressure sensors, such as resistance strain gauge pressure sensors, semiconductor strain gauge pressure sensors, Silicon piezoresistive pressure sensors, inductive pressure sensors, capacitive pressure sensors, resonant pressure sensors and capacitive sensors.
SI-3151TLT Diaphragm Pressure Transmitter-Flange Type is a capacitive pressure detection element. The sensor converts the pressure signal into 4-20mA or other standard signals through a high-performance electronic amplifier and outputs them to secondary meters such as digital displays, regulators, and recorders or DCS systems.
SI-3151TLT Diaphragm Pressure Transmitter-Flange Type is temperature compensated, exquisite all stainless steel hermetic welding and perfect assembly process. The product has the characteristics of high precision, anti-interference, strong overload and impact capability, moisture resistance and long-term stability. A variety of pressure interfaces and electrical interfaces are available for customers to choose, to meet the pressure measurement of various viscous media (mud, coal slurry, paint, crude oil).
The combination of the transmitter and the intelligent amplifying board can constitute an intelligent pressure transmitter. It can communicate with each other through a hand-operated device conforming to the HART protocol for setting and monitoring.
If you need to purchase a SI-3151TLT Diaphragm Pressure Transmitter-Flange Type, or have any technical questions about Diaphragm Pressure Transmitter, please feel free to contact our engineers.