SI-3503 Gas Mass Flow Meter,
Gas Mass Flow Meter is an ideal choice for the measurement of flow rates of a wide variety of gases.
SI-3503 In-line type thermal mass flow meter,
provides direct mass or standard volumetric flow measurement,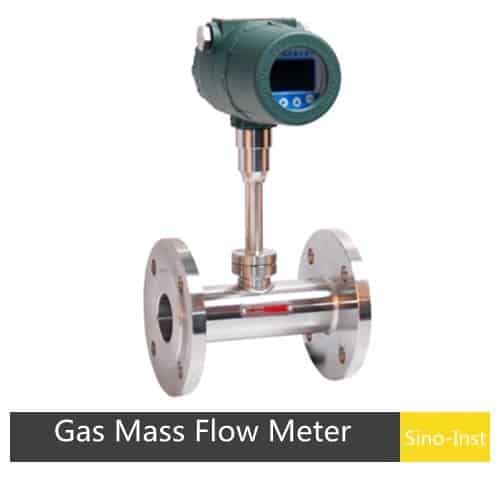 | | |
| --- | --- |
| Diameter | DN10~DN6000mm |
| Accuracy | ±1% |
| Temp. range | -10~350℃ |
| Pressure | Medium pressure≤10MPa |
| Flow rate | 0.5-100m/s |
| Protection | IP67 (sensor part) |
Features
In-line flow sensor, with flange or thread process connection

Large turndown ratio-100:1, so it can also detect low velocity flow

Digital gas flow transmitter with instant flow and total flow, can even display gas temperature upon request

Mass flow meter without any temp & press compensation

Low price cost,

directly

buy from China thermal mass flow meter manufacturer

No moving parts for long time usage
Specifications
Medium

All gases (except acetylene)

Pipe diameter

DN10-80 (Flange type)

DN100-6000 (Insert type)

Flow rate

0.5-100Nm/s

Accuracy

±1%

Operating temp.

Sensor

Default type: -10~+200℃

High temp. type: -10~350℃

Transmitter

-20~+45℃

Operating pressure

Medium pressure≤10MPa

Medium pressure≤2.5MPa

Power supply

Compact type

DC24V or AC220V≤18W

Remote type

AC220V≤19W

Response time

1s

Output

4-20mA

Optical isolation, max. load 500Ω

RS485

Optical isolation

HART

Pipe material

Carbon steel, stainless steel, plastic, etc.

Display

Compact type: 4 lines LCD display

Display content

Mass flow, standard volume flow, accumulated flow, time, accumulated time, medium temp., standard flow, etc.

Ingress protection

IP67 (sensor part)

Sensor material

Stainless steel

Stainless / carbon steel
Order Guide
In addition to regular products, we support customization
SI-3503
Thermal mass flow meter
Sensor type
C           Retrench pattern insert type
D           Online pluggable type
E           Flange pipe type
F           Thread pipe type
G           Clamp on type
Pipe diameter
C         Round pipe: DN15~DN6000
S         Square pipe: 25*25mm~2000*2000mm
Housing material
A           SUS304
B           SUS316
C           Other material
Pressure
S            1.6MPa
M           2.5MPa
T            4.0MPa
Temp.
I                10~200℃
II              10~400℃
Output
1                 4-20mA
2                 RS485
3                 PULSE
4                 Relay contact
5                 HART
Power
DC        24VDC
AC        220VAC
Display
J          Integrated display
S         Split display
Applications
Gas in industrial pipelines Air, used as gas combustion flow meter, thermal mass flow meter high temperature air flow measurement.
Flue gas out of chimneys.
Waterfall gas during water treatment Gas and compressed air
Thermal mass flow meter for compressed air
Flow measurement and used as natural gas flow meter, coal gas flow meter, liquefied gas flow meter, thermal mass flow meter for flare gas and hydrogen gas etc.
Flow measurement of trapped gas in steelworks
Reviews